Costan commercial display refrigerators for seasonal deli products, which are zero-kilometre and sustainable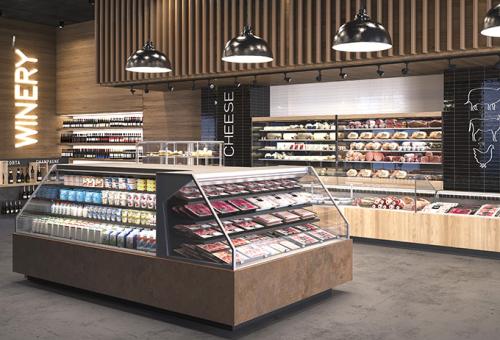 Seasonal, zero-kilometre and sustainable: these are the key elements which drive Costan in the development of commercial display refrigerators which furnish and enhance the deli departments. In recent years the attention to the origin and quality of the ingredients which are brought to the table has increased. In this sense, the preference for good food is increasingly combined with the search for practical solutions which are ready to eat or easy to prepare. 
The number of people who purchase ready meals directly from the commercial display refrigerators installed in supermarkets is increasing: delicious dishes to eat directly on site, in the office, or at home. The most popular specialties include chicken, in its diverse preparations, together with vegetarian alternatives such as vegetable burgers and soups.
A deli department in Large-Scale Retail Trade has always covered an important role in terms of profitability and image. In this sense, making the experience of the consumer unique through the flavours of the region, contextualised in an attractive setting, is of essential importance.
Velvet: the horizontal refrigerated showcase to make the most of the products on display
Epta, with the OutFit family of Costan, transforms each store into a journey through tastes to discover. In detail, Velvet, the refrigerated showcase with remote unit is the ideal serve over solution to make the most of a varied and customised food offer, available in different dimensions, aesthetics and finishes. The inclined front, the numerous superstructures and the glass surfaces ensure excellent visibility of the prepared foods, including hot, with the Velvet Tavola Calda counter module, dedicated to rotisserie products.
Boutique: the functional refrigerated display case perfect for tastings
To ensure a harmonious layout, Costan presents the Boutique cheese display case, available in the entire palette of the OutFit range. The refrigerated display case, in the open and closed version, includes multiple accessories to facilitate the work of operators and widen the opportunities for use. As self-service refrigerated display case, Boutique is perfect, for example, to organise the tastings in themed areas.
Batik: the semivertical refrigerator display with LED lighting for an eclectic solution
The deli department is completed by the self-service semivertical refrigerator display Batik, designed to ensure            optimised loading capacity. The cascading shelves, the LED lighting and the glass terminal ends increase the appeal of the tasty products, offering the right mix of first and second courses, based on meat, fish and vegetables. Finally, Batik is an extremely versatile refrigerated cabinet and allows for numerous configurations, organising sales space eclectically, functionally, and distinctively.