Tutto il design della famiglia GranFit, per un plug and play compatto e funzionale Costan presenta GranBering Integral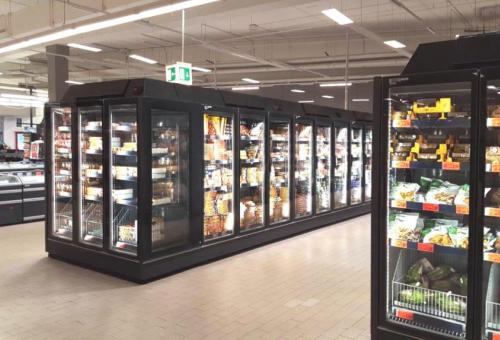 La flessibilità di un banco a gruppo incorporato si coniuga all'elevata valenza estetica e alle prestazioni tecniche delle soluzioni remote: questi i tratti distintivi del nuovo GranBering Integral di Costan. Un sistema "plug and play" unico nel suo genere che arricchisce l'articolata proposta Costan della GranFit Family con un banco per i surgelati completamente integrato e facile da installare, ideale per supermercati di piccole e medie dimensioni.
GranBering Integral si caratterizza per un design all'avanguardia, eccellente capacità di carico e massima visibilità, assicurata dalle porte a tutto vetro, in grado di potenziare l'appeal delle referenze esposte e catturare l'attenzione di ogni Cliente. Inoltre, per rispondere alle esigenze dei negozi di prossimità e dei convenience, GranBering Integral è disponibile in due profondità, Narrow e Compact, nelle lunghezze a due o a tre ante e presenta un mobile di testa con tre porte "S", più strette e studiate ad hoc per rendere le corsie più agevoli.
GranBering Integral stupisce, infine, per i suoi bassi consumi energetici garantiti dall'utilizzo del refrigerante propano R290, 100% naturale e dal ridotto GWP. La dotazione di un compressore inverter di ultima generazione è un ulteriore valore aggiunto che ne favorisce la più alta efficienza.