A NEW STYLE MAKES ITS ENTRANCE INTO THE CITY WITH THE REFRIGERATED CABINETS SLIMFIT COSTAN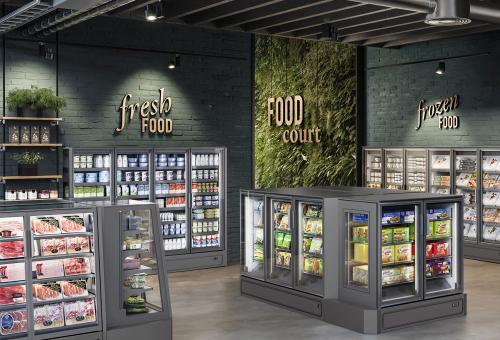 Changes in consumer purchasing habits are driving the transformation that is taking place in the formats of Large Scale Retail Trade, towards a new vitality of the proximity store. Hyper-localisation, flexible opening hours and the possibility of a fast and sophisticated shopping experience are just some of the key elements that help to improve customer loyalty.
To mould distinctive environments while increasing profitability per square meter, Costan renews SlimFit. This complete line of compact refrigerated cabinets, belonging to the family of Integral furniture, merges the design of remote refrigerated cabinets with the optimised capacity and compactness of plug-in solutions, to furnish elegantly the self-service area of small stores, minimarkets and convenience stores.
SlimFit distinguishes itself for the depth of range of its solutions, aligned and mixed together to create endless wall and island compositions, also by virtue of the new aesthetics of the base and of the coordinated silkscreen printing for the panoramic terminal ends, guaranteeing a homogenous look&feel. Furthermore, to ensure a greater flexibility of the layout of the food area, the vertical refrigerated cabinets for frozen foods Valzer Next and the special set-up Valzer Bio can now be multiplexed and are available in an unprecedented 4-door length. To respond to this need, Valzer Next is now enriched by the Narrow  depth.
To enhance the visibility of the products while improving the efficiency of the store, Costan introduces doors on Valzer Next and new soft-closing Advance Passive doors, equipped with anti-mist glass without the use of electrical resistances on the semivertical Twist Next refrigerated cabinets.
An improved display of products is guaranteed by the Advance doors with a transparent frame for the vertical refrigerated cabinets for fresh products Tango Next and for the semivertical refrigerated cabinets for fresh products Mambo Next. Finally, new lighting for Tango Next, Valzer Next, Twist Next and Mambo Next which, alongside the Value LEDs, give the possibility to choose the LED Advance variant with a higher performance in terms of brightness.
The full range below:
Find out more: https://www.youtube.com/watch?v=zv-1n6VDmFA&