FTE: Full Transcritical Efficiency. Epta revolutionises transcritical technology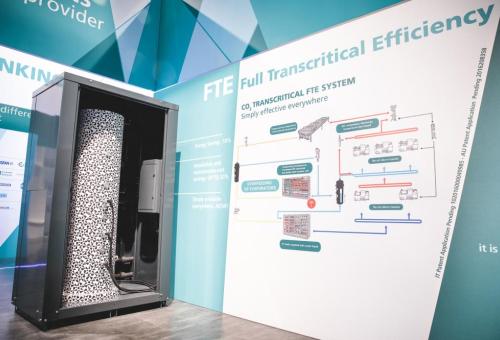 With the introduction of the Kigali Agreement in October 2016, the adoption of systems using refrigerants that have a minimum GWP has become a must in all sectors. Epta has responded to this challenge with a "total solution" which is dedicated to Retailers who want to make their stores "naturally" green. The Group offers CO2 solutions that are efficient and extremely flexible. These solutions are designed to overcome the current limitations of transcritical technology, sized for any store format - from hypermarkets to convenience stores - and suited to all climate conditions. The Group's solutions include FTE (Full transcritical Efficiency), the leading innovation presented by Epta at Euroshop 2017.
Simple, Global, Industrialised and Reliable: these are the special characteristics of the FTE transcritical CO2 system that was presented by Epta as a preview during Euroshop 2017. The system is patent pending in Italy and Australia and combines simplicity and performance, guaranteeing an energy saving of 10% (compared to a standard CO2 booster system) and savings of up to 20% on installation and maintenance costs.
The "secret" of the simplicity of Epta's FTE system is that, in mechanical terms, compared to the standard configuration, it only adds a multilevel liquid receiver that is the core of the innovation. It is a revolutionary solution, that has been tested in our factories and made available on a large scale. FTE guarantees the utmost reliability, functionality and efficiency for Retailers all over the world, in any climate.
Due to its excellent performances and the protection of components, the new FTE has already received a special endorsement from BITZER, the renowned global producer of compressors.
Watch the video and find out more on FTE system https://www.youtube.com/watch?v=v1HJSMHcCNk
Watch the video interview to Pietro Trevisan, Bitzer Head of Sales and Technical Support for Bitzer Italia srl https://www.youtube.com/watch?v=hFubcuRcLv8