#EPTABRICKS, THE CLICK & COLLECT SOLUTION BY EPTA, TO SERVE ALL RETAILERS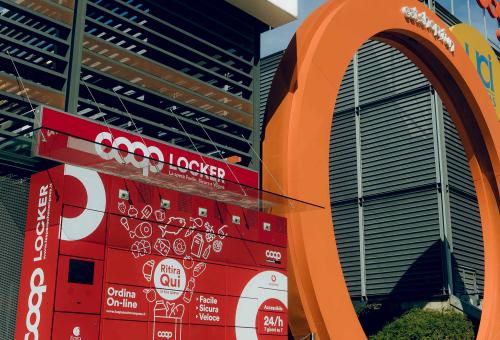 The Click & Collect solution is a trend that is increasingly becoming part of purchasing habits, bound to bring changes in the future of Retail and, at this time, we are witnessing its significant growth. In Italy, for example, where it was still relatively unknown, it rose around 9% of total online sales[1] while in a market like France in which the Drive is consolidated, it accounted for 7% of the total sales in week 10[2].
It presents itself like a smart, safe and easy to use shopping solution, minimising waiting times, all key elements for respecting the restriction obligations imposed by the current situation.
To respond to new consumer demands, Epta works alongside Large-Scale retail operators in the current change by promoting the refrigerated cabinets, #EPTABricks, for the Click & Collect solution. Practical and easy to use, #EPTABricks enable Customers to pick up food and non-food products 24 hrs a day ordered on the Retailer's website. Designed to ensure highest flexibility, they are available in the Indoor and Outdoor version and are composed of temperature-controlled modules. The #EPTAdryBricks are intended for dry foods, #EPTAfreshBricks and #EPTAfrozenBricks guarantee the conservation of fresh and frozen products.
#EPTABricks can be positioned anywhere and are particularly suitable for installation inside residential districts and prospectively, along the home-work route, inside or close to large Companies, close to stores or to petrol stations. Thus, they allow to take full advantage of strategic areas where a new type of demanding consumer is moving, in search of a fast shopping solution, during short daily trips. #EPTABricks is a solution that combines convenience and sustainability, eliminates home delivery and ensures an efficient management of the last mile and a reduction of the carbon footprint, including by virtue of the use of the refrigerant propane R290. They also contribute to simplifying sales, thanks to the ease in handling online orders through a system that connects to the Retailer's e-commerce platform. In France, where the #EPTABricks are already widespread and adopted by several major Retailers, such as Leclerc, Intermarchè, Casino, Carrefour and SuperU, the results are evident and recording up to +300% of orders[3], compared to 2019.
[1] https://www.iriworldwide.com/IRI/media/Library/2020-04-17-IRI-BCG-COVID-Global-Consumer-Spend-Tracker-v6.pdf
[2] https://www.nielsen.com/fr/fr/insights/article/2020/covid-19-coup-daccelerateur-pour-le-drive/
[3] The figures refer to the total orders recorded for week 14 of this year, compared to 2019