Arcade, the positive temperature chilled display cabinet for discount stores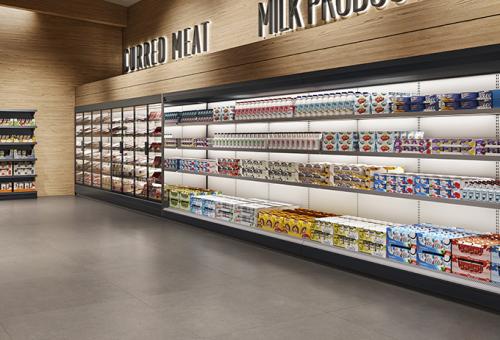 Epta, with its Costan brand, responds to the new trends of the Hard Discount segment with Arcade. The positive chilled display cabinet belongs to the new Fundamental family, designed to furnish the fresh product area.
This format has become increasingly like that used by soft discount stores in recent years. Its success is due to two key factors:
an increased offer of products. The impact of fresh products is increasingly strategic to try and build consumer loyalty
a constant focus on convenience for all price ranges, including premium.
Arcade is the new generation chilled display cabinet: an ergonomic, eco sustainable and modular solution
Elevated capacity, sustainability and modularity: these are the advantages of the Fundamental line. Sturdiness, ergonomics and ease of maintenance are other features.
Designed to present a vaster and deeper assortment, the Arcade chilled display cabinet envisages the possibility to place up to 7 shelves. This is to welcome a large selection of pre-packaged products such as yogurt, cheese and ready-made pastries.
Organic products are also making their way, in line with the renewed sustainability of the Discount stores in terms of quality. This also translates into a store layout with a low environmental impact. The chosen cutting-edge solutions guarantee perfect preservation of the foods, in all temperature classes.
A high energy efficient chilled display cabinet, with led lighting and numerous combinations to enhance the product on display
Arcade, available in the open (HD and Multi) and closed versions with full height doors (ECO) is distinguished by elegance and sustainability. The LED lighting on the frame, the uprights and the shelves give the chilled display cabinet a modern and sophisticated look. At the same time, it ensures excellent visibility of the products on display.
The solution is equipped with high efficiency fans which guarantee an increased energy performance of between 12% and 22%.
Arcade, available in two heights 20 (2105mm) and 22 (2305mm) and four lengths (125, 188, 250 and 375 cm), becomes the spokesperson for a new concept of modularity. Practical and functional, this new concept allows to change the layout of the shelves according to the needs of what the client wants to display (fruit and veg, fish, meat, etc.) offering an excellent alternative inside the same display space, thereby creating different alternative solutions inside the same furniture structure. This favours maximum flexibility in enhancing limited display space and in outlining more efficient and profitable assortment layout policies.