Appointment in Madrid with Epta Iberia: the new products on show at Climatización & Refrigeración 2021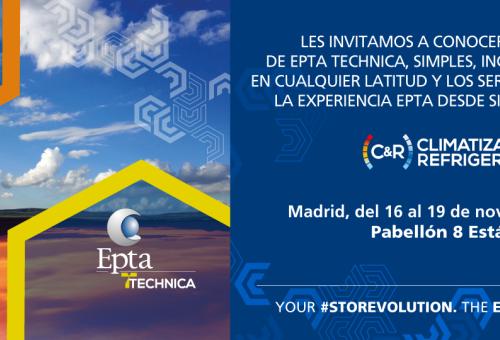 Epta Iberia will be among the protagonists of Climatización & Refrigeración 2021, the international trade show dedicated to the players of the HVAC&R world which will be held from 16 to 19 November 2021 at the IFEMA exhibition complex of Madrid (pavilion 8, stand D08). Technological innovation hub for the promotion of a sustainable and efficient industry, in addition to an occasion to meet with existing and potential clients, it is also the ideal stage for the Group to outline its main innovations.
These include the solutions signed EptaTechnica, the new brand of Epta previewed on the Spanish market during the show. This brand is specialised in technical solutions suited to every latitude, from the refrigeration packs to complete sustainable refrigeration systems, overseeing engineering design and installation. Epta also proposes the vast range of after-sales services of EptaService, which features remote monitoring, 24hr assistance and online support to guarantee customers real benefit and all-round support, at every stage of the project.
The event in Madrid will also be the opportunity to underline the ability of Epta to respond to the specific requests of stores and shops of any type and dimension. At the stand, visitors can become acquainted with the potential of the ECO2Small refrigeration pack with FTE 2.0 and ETE for supermarkets and hypermarkets. The system, in addition to satisfying the stringent international environmental regulations, ensures energy saving compared to traditional CO2 plants and excellent performance also in hot climates. For mid-size stores, Epta Iberia proposes GranVista and GranBering Integral and the Costan SlimFit family and, for the Food&Bev sector, the plug-in cabinets with natural R290 propane refrigerant of the Iarp Cool Emotions.
To finish, Epta Iberia will present the innovative technology LineON of EptaService, an advanced service of connectivity that analyses parameters such as temperature, humidity and consumption, in addition to collecting information on the sales activities of plug-ins. This digital solution gives the Ho.Re.Ca. and Food&Beverage Sector access to complete and updated feedback on the performance of the furnishings and habits and preferences of consumers, making the solution a valid marketing tool.